ConSol is your reliable partner in the entire OpenShift environment. We support you with powerful service modules related to the Red Hat development platform – individually tailored to your wishes and requirements.
Take advantage of our comprehensive know-how and best practices from numerous OpenShift projects in medium-sized businesses as well as DAX companies and other heavyweights. With us, the Red Hat development platform will be able unfold its full potential for you as well.
ConSol – Your OpenShift Partner on a Par
Com­pre­hen­sive­ly Carefree
The ConSol OpenShift experts provide support exactly where you need it: with idea & conception, in selecting the perfect solution, implementing the subsequent service and with operation including monitoring.
One Address – All Experts
Whether cloud, container, automation, agile development, monitoring or storage, ConSol unites specialists from all areas under one roof. They expertly join forces to support you in migrating historically grown applications to OpenShift.
From Small to Large across All Industries
Whether PoC, installation or transformation into PaaS – benefit from our cross-industry best practices. For years, we have successfully carried out OpenShift projects and training courses for medium-sized businesses as well as large corporations.
Red Hat Premier Partner with expert know-how
ConSol has been working with OpenShift since PaaS was first introduced. Today we are one of the few premier partners with a focus on cloud solutions. Working with us, you will have direct access to up-to-date comprehensive know-how as well as the best conditions for your Red Hat subscriptions.
ISO-certified. Excellence 24/7.
ConSol attaches great importance to information security and quality, not least proven by our certifications according to ISO 9001 and ISO 27001. You can rely on certified excellence in IT operations and managed services. Around the clock if required.
You decide the services you want and how far you want to go with ConSol. Simply choose from our service range of single and consecutive modules. For us, the single important goal is the success of your implementation.
Our Construction Kit for Your Success with OpenShift
Workshop
What can OpenShift do and which technologies is the platform offering especially for your application? We will take a close look at your IT infrastructure to find out how OpenShift can meet your expectations in practice.
Proof of Concept (PoC)
Put OpenShift to a test yourself! We will build a test environment tailored to your requirements. Supported by us, you will be able to migrate and deploy your first application on your own. This testing procedure will give you a good idea of where this impressive journey may be able to take you.
Applicationen
We know our business and all the hurdles that may arise during any migration of historically grown applications to OpenShift or in developing software for OpenShift. We will design all procedures perfectly fitting your requirements, whether you need new development or migration. This way we will pave the way for your company towards a solid, state-of-the-art and agile development.
Training
Do it yourself, relying on solid backup. Tailored to your requirements, our OpenShift experts will support your IT and development team in building know-how and staying up to date at all times.
Operation & Support
As a Red Hat Premier Partner with profound know-how, ConSol offers application and infrastructure operation in OpenShift – highly available and fully comprehensive – as well as expert-support. Both around the clock, in German language, ISO-certified. And with customized SLAs.
Monitoring
IT infrastructures and applications are becoming increasingly complex, resulting also in increasing monitoring requirements. ConSol's monitoring expertise for platform and application monitoring in OpenShift clusters offers solid support. So you can always rely on your business IT.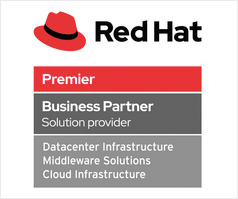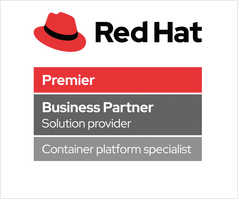 ConSol is a Red Hat-certified Premier Business Partner Solution Provider with many years of experience as an ISV & CCSP Partner. That means: Proven, leading-edge project expertise with a focus on cloud and container platform solutions. Regular training seminars on all Red Hat products. Top terms for subscriptions.
Profit from true eye-level partnership – because working together and reliable expertise make it possible to solve even the most complex problems. ConSol is your Premier Red Hat Partner wherever you are – with branches, for instance, in Munich, Düsseldorf and Vienna.
More than 200 customers put their trust in ConSol for IT & software
OpenShift-Consulting: Technologien & Kompetenzen